Invitation for Expression of Interest
October 26th, 2023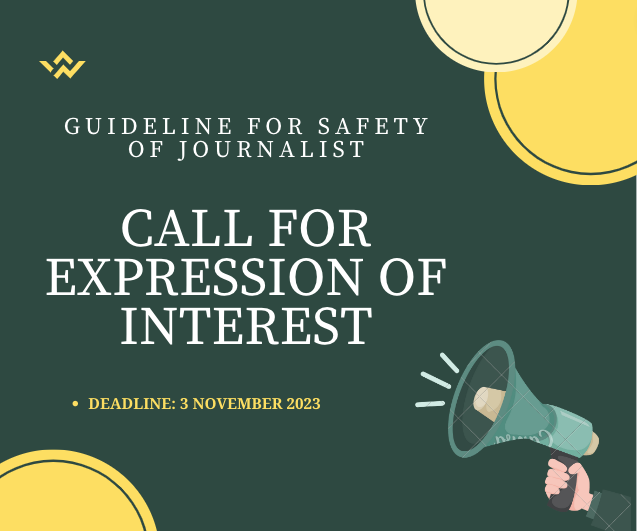 Bhutan Media Foundation is pleased to invite Expressions of Interest (EoI) from qualified individuals or organisations to develop a guideline for safety of journalists.
The guideline will ensure the wellbeing and protection of journalists working in a variety of environments, including conflict zones, investigative reporting, and potentially dangerous situations. The guidelines should encompass a wide range of safety measures, risk assessment techniques, and best practices for journalists.
Terms of Reference
Background
The objective of this assignment is to create a comprehensive set of safety guidelines for journalists working in various environments, including conflict zones, investigative reporting, and potentially hazardous situations. These guidelines are part of the "Protecting Journalist and Media Freedom in Bhutan" project, which aims to enhance journalist safety and promote media freedom in Bhutan.
Scope of Work:
The selected consultant will be responsible for the following tasks:
Conduct a thorough review of existing safety guidelines for journalists and best practices.
Adapt and customise the guidelines to the specific context and needs of journalists in Bhutan.
Develop a comprehensive set of safety guidelines that encompass risk assessment, safety measures, and recommended practices.
Ensure that the guidelines are accessible, user-friendly, and easily understandable by journalists of varying backgrounds and experience levels.
Collaborate with relevant stakeholders, including journalists, media organisations, and government agencies, to gather input and feedback during the guideline development process.
Provide training and capacity-building sessions for journalists in Bhutan on the use of these safety guidelines.
Qualifications and Expertise:
The consultant should have the following qualifications and expertise:
Demonstrated experience in developing safety guidelines for journalists, preferably in diverse and challenging environments.
Knowledge of the specific challenges and contexts faced by journalists in Bhutan.
Strong research and analytical skills.
Excellent communication and presentation skills.
Experience in conducting training and capacity-building activities.
Deliverables:
The consultant is expected to produce the following deliverables:
Draft journalist safety guidelines customised for Bhutan.
Finalised safety guidelines, incorporating feedback from stakeholders.
Timeline:
The consultant is expected to complete the assignment within a period from 4 to 30 November 2023 with regular progress updates to the project management team.
Reporting:
The consultant will report to Executive Director of BMF and work closely with the project team to ensure the timely and successful completion of the assignment.
Payment:
Payment terms and amounts will be detailed in a separate agreement upon selection of the consultant.
How to Apply:
Interested consultants should submit their Expression of Interest, including a detailed CV, a proposal outlining their approach to the assignment, by email to Finance Officer at d.tshering@bmf.bt by 3 November 2023 during office hours.
Evaluation:
The selection of the consultant will be based on qualifications, experience, and the proposed approach.
Contact Information:
For inquiries or to obtain further information, please contact Dawa Tshering at d.tshering@bmf.bt or call him at  02-331705 or 17615643
For detailed procurement TOR, please visit here Procurement TOR