More journalists leave the industry
August 13th, 2019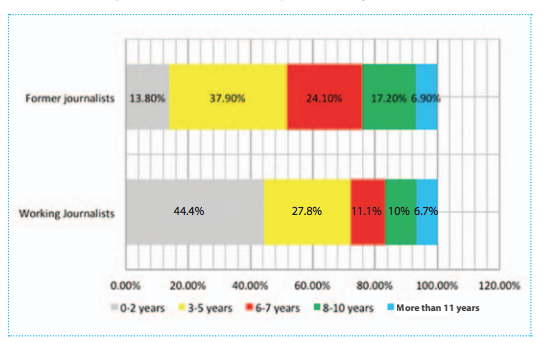 The media industry
 in Bhutan is facing challenges with journalists leaving their profession.
The economics of market sustainability has tested journalists to the core. The attrition rate
of journalists has been alarming though a study has not been done. Various reasons like the pursuit for greener pasture, workload, family problems, no career progression and sometimes management issues
and financial pressure have been attributed to journalists leaving what they once deemed their vocation.
Hundreds of Bhutanese journalists have already left their profession and many more are in line to leave. Talking to Business Bhutan, Needrup Zangpo, Executive Director of Bhutan Media Foundation (BMF) said, "Bhutanese journalists are leaving the media for a number of reasons. Some hit the glass ceiling, some get burnt out, some find greener pastures too irresistible, some see no future in journalism, and some leave to earn a regular salary. Of course, every talent or experience lost from the media is a blow to the industry because journalists are made in the newsroom and that takes time."
While the president
of Journalists Association of Bhutan (JAB), Rinzin Wangchuk, said that these past few years have not been kind to Bhutanese journalists and though some say that they are moving on to greener pastures "it could be true only to a certain extent and there is a serious need to introspect what is troubling Bhutanese journalism."
As the JAB president and one of the senior-most working journalists
in the Bhutanese media industry, he believes that journalism is both a calling and an opportunity. "Those working in the state-owned media are leaving their organizations like any other sectors because of family pressure, management issue, working condition, and stagnant positions. One has pointed out that everyone believes he or she is resigning because
of greener pasture. It may be true but we should not forget that the grass is greener where we water it," he said.
"However, our colleagues in some private media houses are resigning one after another mainly because from what I
heard, they are not paid their salaries on time or they were underpaid by the proprietors or the promoters. JAB will have to look into this issue
and take the issue to the labor ministry if our fellow journalists are really being exploited," he added.
According to him, journalists are not leaving their profession but the organization.
According to the "Situation Assessment of Journalists" a first of its kind study conducted by JAB, low salary packages, professional hazards, and lack of public recognition of the profession are cited as the main reasons. "Most former journalists left journalism because they wanted to change their profession.
However, a good number of them said
low salary and better opportunities propelled them to leave, while others mentioned professional hazards including censorship, threats and long working hours as reasons for their exit," the study revealed.
There are a total of 161 registered members with JAB including freelance journalists. Rabi C Dahal, a senior journalist who worked with Bhutan Observer and left journalism in 2017, said, "I didn't leave journalism. Journalism left me. Bhutan Observer closed their paper. I wasn't doing journalism between 2013 to 2017. I had a contract with the office so I hung around. Then finally I left. I joined BO in April 2006 and left on 20 May 2017. And also I was not paid well."
Another reporter who left the profession Chimi Delkar who worked with a private media house said she left because of low pay. Another reporter with the private media shared the same story of low pay.
Published in Business Bhutan on August 3, 2019