Children speak their hearts
October 21st, 2011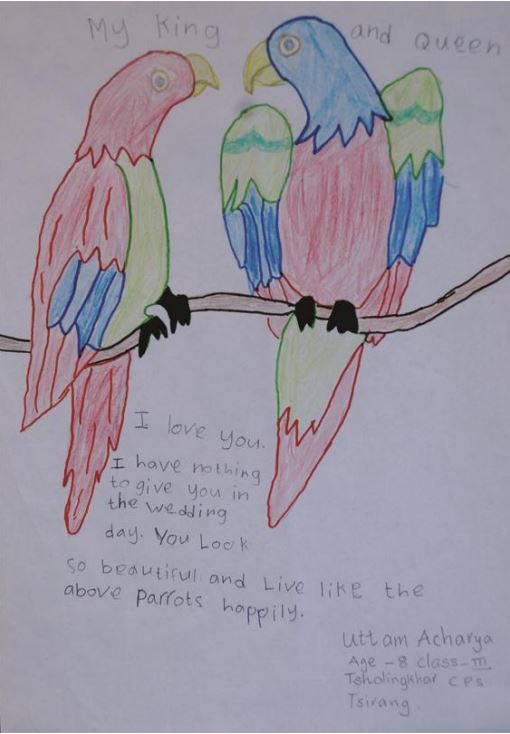 A week-long exhibition in Thimphu of children's messages of congratulations on the royal wedding presents a rich mosaic of feelings. Needrup Zangpo tries to distill the essence of the messages
"King you are very lucky to get this queen. Your queen is looking like Korean girl. If your Majesty come to Tendu with gift to old people again then all people will be happy. In Tendu, All people like to come in your wedding but they have no money so they will not come…My parent also would like to come but she is worried about us."
This is one of the letters of congratulations on the royal wedding from Bhutanese children across the country. And this is Sherub Wangchuk of Class III from Tendu Higher Secondary School in Samtse.
More than 3,000 messages – essays, poems, letters, paintings, and drawings – from students currently form the mosaic of feelings and imagination at Nehru-Wangchuck Cultural Centre in Thimphu. The display of messages collected by Bhutan Media Foundation (BMF) called "An Exhibition of the felicitation messages from the hearts of the people to the people's King and Queen" captures the mood of the Bhutanese children and youth on the joyous occasion, at once powerfully and variedly. Today is the last day of the exhibition.
Pleasantly, most of the messages are more than mere words of best wishes and congratulations. They are imbued with innocence and a message straight from the heart. Roshan Kathet, a Class VI student of Salami Community Primary School in Tsirang, fills his little poem with the imagery from his immediate surroundings.
Baby need milk
Cow need grass
But we need
Our King and Queen.
His is one of 1,290 poems BMF has received.
Tshering Gyeltshen from Wangdicholing Lower Secondary School in Bumthang finds a powerful image from the kitchen.
My beloved king and queen
You are the salt of Bhutan.
Ten-year-old Kinley Wangchuk goes further afield to find more colourful imagery.
Oh! My King and Queen
How handsome and beautiful you are
You are like two birds that sings together
Oh! My King and Queen
How greatful you are
And you are like two rivers that join together.
Thinley Tenzin of Class IV from Changangkha Lower Secondary School in Thimphu has a straightforward wish to the royal couple with a separate message to His Majesty, "Long live to Our King and Queen. At last I want to say be nice with queen."
Besides poems, essays, and letters, hundreds of paintings and drawings pay tribute to the royal couple.
A Class V student, Pema Namgyel, depicts the Bhutanese belief that nature rejoices when a nation rejoices. His painting shows people, cattle, fish, and flowers coming together to offer Trashi Khadar to His Majesty the King and Her Majesty the Queen.
Another painting depicts a similar ambience in which dogs, pigs, elephants, birds, cattle, rabbits, and butterflies dance to the music played by a cat, a deer and some other animals. Even a snail is dancing with its head held upright.
Some paintings depict offerings of heaps of jewels, bouquets of flowers, and colourful rainbows. Some children literally paint a more robust future for Bhutan after the royal wedding. Paintings showing King alone hauling the map of Bhutan uphill before the wedding, and Queen helping him drag the map after the wedding are common. This theme is expressed in many different ways like King and Queen together hoisting the national flag aloft and King and Queen together lifting the map of Bhutan.
While images of butter lamps and khadar abound, Mickey Mouse and Barbie stickers decorate some drawings. In some paintings, Her Majesty the Queen is portrayed as a petite Barbie girl or a sleek mermaid.
The youth, high school students, in both writings and paintings, have drawn their imagery from higher objects like the sun, the moon, the stars and light. While personal themes run through the children's writings and art works, the youth make reference to celestial objects and gods to express themselves.
However, the themes of love, beauty, and joy dominate all categories of the messages.
BMF has received messages of felicitation from all the 20 dzongkhags, mostly from children and youth. The executive director of BMF, Lily Wangchuk, said all the messages received until September end had been compiled into a book measuring 15"x12" titled Royal Wedding Wishes. The book is yet to be launched.
Meanwhile, due to last minute submission of messages, BMF has opened another book titled Royal Wedding Book of Congratulations at the exhibition venue where people can leave handwritten messages.
And at the exhibition, amid the handwritten messages, two colourful parrots sit on a perch facing each other. That's in Uttam Acharya's painting. Below the birds, the eight-year-old Class III pupil from Tsholingkhar Community Primary School in Tsirang writes, "I love you. I have nothing to give you in the wedding. You look so beautiful and live like the above parrots happily."
The story can be accessed here