CSOs contribute Nu 65 billion in the past one decade
July 21st, 2022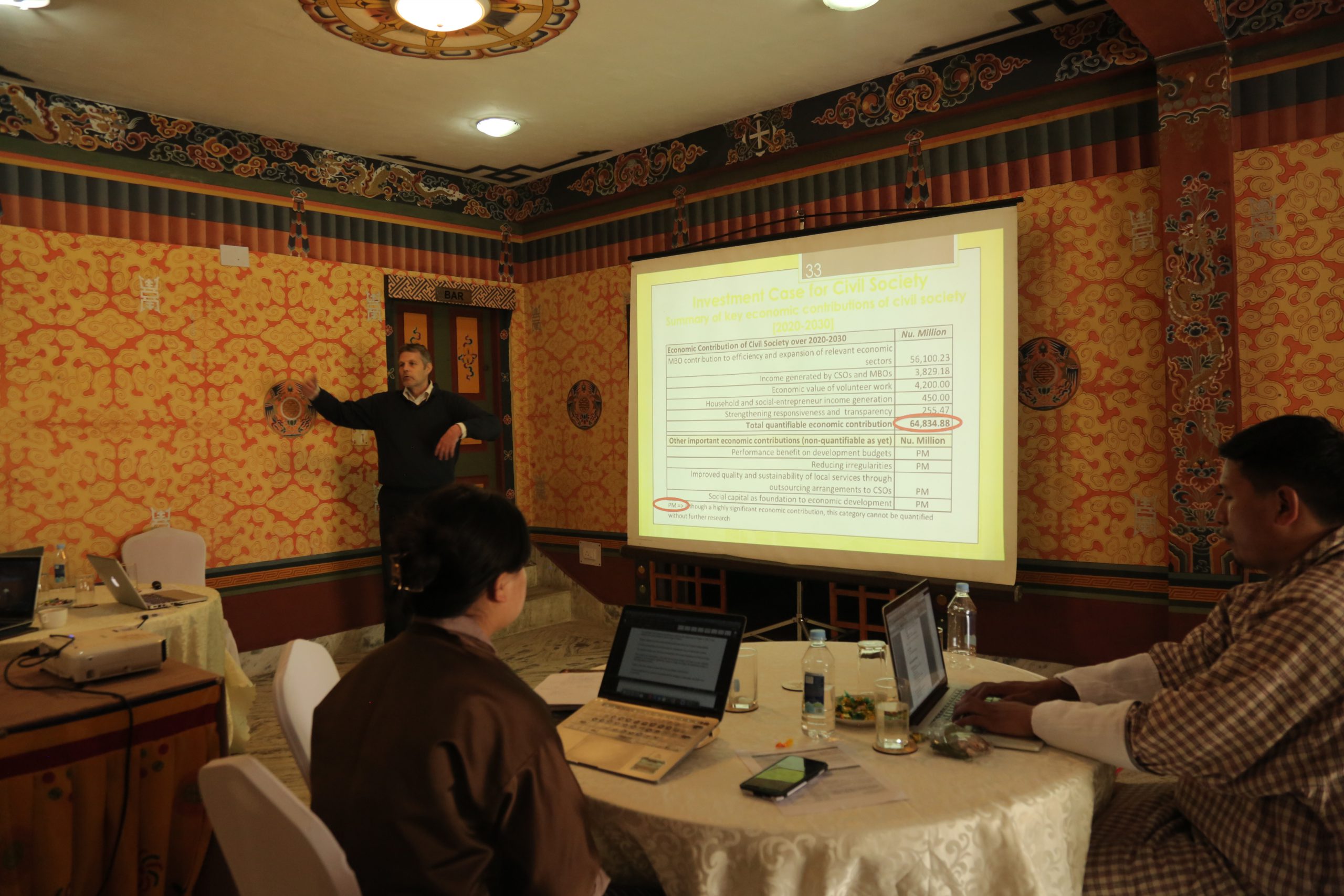 By Karma Chimi (Reporter, Bhutan Times)
The estimated monetized value that Civil Society Organizations have contributed to Bhutan's economic development is Nu 65 billion in the last ten years.
Hendrik Visser, Animal Rescue and Care, highlighted the contribution of CSOs' to economic development in Bhutan's 21st Century Economic Road Map.  It was presented a few weeks ago in Paro during the two-day workshop on understanding CSOs, the third sector, organized by Bhutan Media Foundation.
The members of CSOs say that Civil Society is of great importance to the development of the country as well as for Bhutan's resilience to shocks and disasters, even if that is yet to be fully acknowledged.
Even in Bhutan, the development is still too often measured in Gross Domestic Product (GDP) and by the percentage of economic growth achieved.
Therefore, monetising the value of social, natural, cultural, and human wealth is a strategic choice. CSOs say that what is not measured remains largely invisible and are thereby in danger of being undervalued.
In early 2012, Bhutan launched an effort to bring Gross National Happiness (GNH) principles and the value of the country's social and natural wealth into the National Accounts.
Monetizing Civil Society contributions to economic development in categories, there is direct economic contributions through income and employment generation. CSOs contribute in increasing economic efficiency and expansion, through facilitation of economic development. The expanded services and improved quality/sustainability of service delivery contributes to economic development.
Over ten years, CSOs contributed through income and employment towards direct economic development. The CSOs mapping report over 2010-2018 shows that CSOs have generated substantial funding for their own operations. With an annual 0.5 percent increase this constitutes Nu 3,829,185.14 mn over ten years.
As per the findings, the civil society also creates significant employment, estimated at 5,577 person-years, plus 68,255 person-years of meaningful volunteer engagement. The value of Volunteer Work provides a direct economic income contribution of Nu 4,200 million.
The other direct economic contributions are through income and employment. Over ten years, multiple CSOs supported income generation of mostly rural households and social-entrepreneurs, through the use of sustainable use of natural and social capital (Tarayana, RENEW, SABAH, Loden Foundation).
Anticipating potential for growth, is it estimated that CSOs would bring the total economic contribution over 2020-2030 to Nu 450 million.
According to the ACC's "CSO Engagement strategy on Justice, Governance & Anti-Corruption", itprovides a framework for CSOs and public agencies to proactively collaborate and engage in strengthening Good Governance and promote systems of integrity.
It is stated that if given full support by government and ACC for CSOs to engage in increased capacity for transparency and anti-corruption action, it is anticipated that corruption or restitution can be improved by 1 percent per year according to the Royal Audit Authority amounting to Nu 255.47 m.
The CSOs increase economic efficiency and expansion through facilitation of economic development. The key mandate and role of Mutual Benefit Organizations (MBOs) is to engage with political and public sector levels to strengthen the enabling environment for economic development within the sectors their members perform.
Anticipating potential for growth, MBOs would bring the total economic contribution of MBOs over 2020-2030 to Nu 56,100.23 mn.
CSOs also strengthen social capital as foundation for economic development. The economic value provided by Bhutan's ecosystem services is about US$15.5 billion/year, mostly through Bhutan's forests. The economic value of voluntary work in Bhutan is about US$ 6 million a year, based on what it would cost to replace those free services for pay.
CSO members conveyed that more research is needed to capture the full monetization of Civil Society's economic contribution. However, it stated that the value of Civil Society should not be reduced to its measurable financial benefit to society keeping the fundamental importance.
This story was first published in Bhutan Times on 18 July 2022