The man without a plan B
July 21st, 2022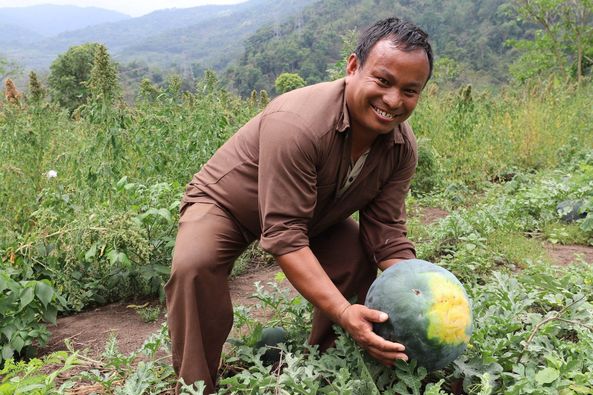 One summer day in 2014, Thinley Wangdi, 45, gathered 80 youth from Zhemgang around him in Thimphu. He wanted at least 16 of them to go back to Zhemgang with him to start a farming cooperative as required by the cooperative regulations. Only five of them agreed to go with him. Later, the parents of some of them were infuriated that he hoodwinked their boys into leaving the urban Thimphu to take up farming in remote Zhemgang. They pursued him, knives in hands.
Eight years on, his brainchild, Khengrig Namsum Cooperative (KNC), is thriving, thanks to support from various quarters, including the government, Helvetas Bhutan, European Union, and CSOs. At this time of the year, the cooperative floods Thimphu town with supersized organic watermelons.
Today, KNC is too successful for some new ventures. In a recent year, KNC harvested five tonnes of bamboo shoots to produce pickles, which shocked the forestry officials into withholding the permit to harvest bamboo shoots from the following year.
In a royal audience, His Majesty the King said to him that he should not leave KNC behind and that His Majesty would keep watching the progress of KNC. Thinley says those sacred words have kept him and KNC going.
What also keeps him going, he says, is that he doesn't have a plan B which, for most Bhutanese, happens to be Australia.
'If I had a plan B, I would have faltered and failed along the way,' he said to a group of journalists, who are attending a two-day workshop 'Understanding CBOs, the Grassroots Changemakers: A Workshop for Reporters and Editors'. 'We need only one plan that we are willing to die with.'
Source: BMF facebook page (https://cutt.ly/7LvrLdU)