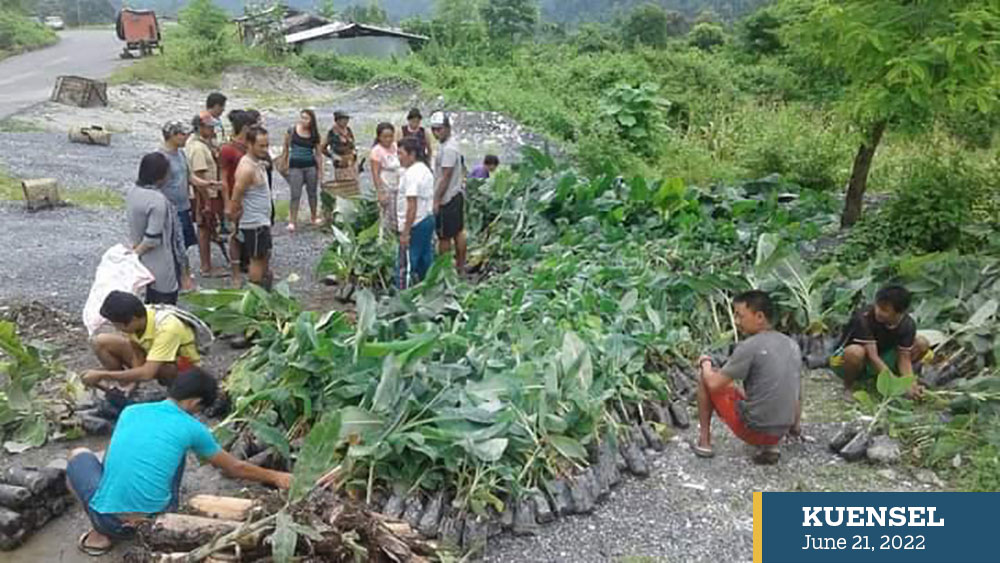 By Tashi Dema
Every summer, Thimphu residents relish organic and juicy watermelons of Khenrig Namsum Cooperative (KNC).
A successful community-based organisation (CBO) in the country, KNC not only prioritises marketing farm produces, but also revived 150 acres of arable land, which remained fallow and introduced commercial farming in Zhemgang.
Citing an example of how villagers in Zhemgang are now growing banana and watermelon on a commercial scale today, the founder and chairperson of the cooperative, Thinley Wangdi, said many assumed it was only possible in the plains of India before they ventured into it.
Started by a corporate employee, who had to leave his job and return to the village after his father made him promise he will not leave the ancestral home in remote Kheng Bardo a gungtong (empty household) and lands fallow, KNC has 230 members today.
Sharing the journey of the cooperative, Thinley Wangdi said although formed in 2014, KNC started doing well only after 2018.
"Our unemployed youth are not in villages, but in urban areas," he said.
According to Thinley, he has contact details of 80 youth from Zhemgang, who are registered with the labour ministry and called them to Thimphu for a meeting to start the cooperative. "Only five agreed then."
He conducted a second meeting where 57 youth attended.  "Only then, I got 16 members to start the cooperative."
He said the cooperative did not succeed as planned in the initial years. "Parents accused me of not allowing their children to look for jobs in urban areas. Some even chased me with knives."
Today, KNC is the face of successful CBO in the country.
They value add to farm produce and process them. They encourage farm mechanisation on sloppy terrain of Zhemgang and even supply seeds.
"We even focus on nursery development," Thinley Wangdi said. "Cooperatives are a must in Zhemgang because of the remoteness and scattered settlement of the villages."
He said KNC connects farm products to schools, monastic institutions, hospitals and other urban markets.
Sharing his concerns about how essentials in villages that were locally available were all replaced by imported goods, he said producing what is needed by villagers is important. "Villagers have to produce enough so that urban residents buy local produce."
He said KNC benefitted from the government's self-sufficiency programme and policy, financial and technical support from the government and other agencies, expansion of schools, hospitals and towns, and good access to rural communities because of farm roads.
"But we also face the challenges of climate uncertainty, geographical terrain, lack of skills required in the farms, price control, society perception," Thinley Wangdi said.
He cited the example of how their children are sent to school, not for education, but to get a job that could land them in problems. "Even when youth are willing to work on the farm, parents discourage them saying they have to work in an office. This perception should change."
According to Thinley Wangdi, the lack of price control impacts them immensely.
"When we sell our watermelon at a wholesale rate of Nu 40 a kg, middlemen sell it at Nu 70 a kg.  They explain it is for the loss they incur in damages."
KNC received help from HELVETAS, UN organisations, and the Rotary Club. They are now planning to collaborate with other cooperatives in the country and change subsistence farming to commercial farming.
"We will also focus on mechanisation of farming and expansion of the market," Thinley Wangdi said.
While records with the Department of Agriculture and Marketing Cooperatives state there are more than 665 CBO and 102 cooperatives, there are more than 2,000 CBOs, some of which are informal.
CBO is defined as an organisation for the community by the community to enhance the socio-economic development of community people and empower them.

The Civil Society Organisation Act of Bhutan 2007, which is being amended, does not include cooperatives as a CSO.
According to the executive director of Bhutan Media Foundation, CBOs complement the development efforts of the government, build civic culture or engagement, sustain democratic culture, and ensure equity and social wellbeing.
BMF is conducting a workshop for media professionals on understanding CBOs, the grassroots changemakers.